Vermont Technical College will join with Castleton University and Northern Vermont University to become Vermont State University on July 1, 2023.
Learn more about our locations at Vermont State.
Vermont Tech offers two residential campuses and nine satellite campuses across the state. There's a place for you at Vermont Tech.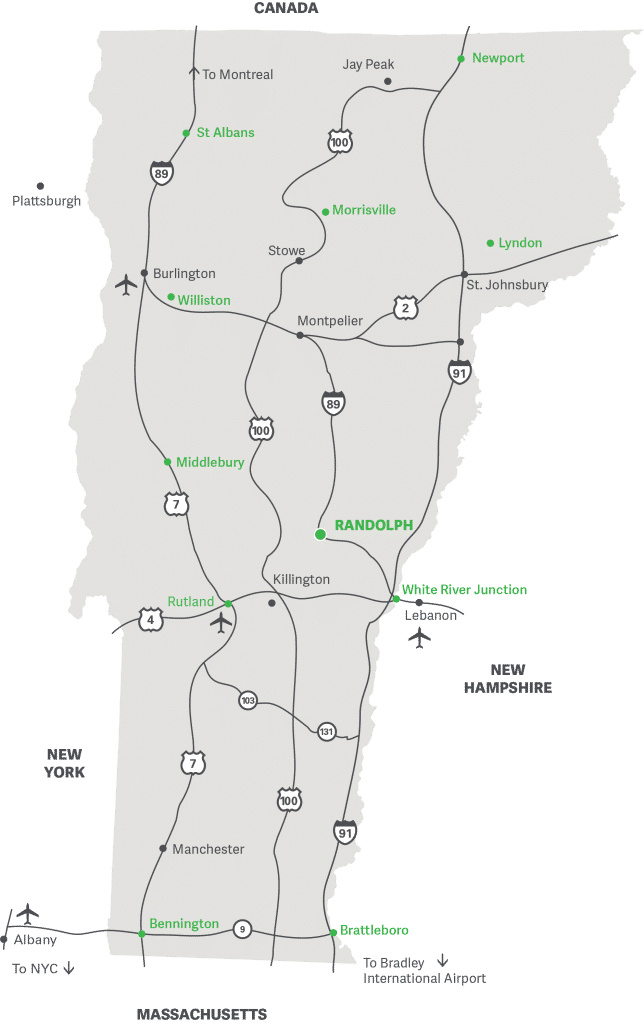 RESIDENTIAL CAMPUSES
Randolph Center
124 Admin Drive
PO Box 500
Randolph Center, VT  05061
(800) 442-8821
Campus Map
Campus Tour
Williston
141 Lawrence Place
Williston, VT  05495
(802) 879-2323
Campus Map
DISTANCE SITES
Bennington
105 Union Street
PO Box 650
Bennington, VT  05201
(802) 442-8811
Brattleboro
Brooks House
41 Harmony Place
Brattleboro, VT  05301
(802) 254-5570
Central Vermont Medical Center
130 Fisher Road
Berlin, VT 05602
Johnson/Morrisville
Northern Vermont University – Johnson
337 College Hill Road
Johnson, VT  05656
Lyndon
Northern Vermont University – Lyndon
1001 College Road
Lyndonville, VT  05851
Middlebury
Hannaford Career Center
51 Charles Avenue
Middlebury, VT  05753
Newport
CCV – Newport
100 Main Street
Newport, VT  05855
St. Albans
CCV – St. Albans
97 North Main Street, Suite 300
St. Albans, VT  05478
Rutland
Stafford Technical Center
8 Stratton Road
Rutland, VT  05701
White River Junction
CCV – Wilder
145 Billings Farm Road
White River Junction, VT  05001
CLINICAL SITES (NURSING ONLY)
Dartmouth-Hitchcock Medical Center, NH
Keene, NH
LONG TERM CARE SITES (NURSING ONLY)
Northwest Long Term Care
Southwest Long Term Care
Central Long Term Care
Northeast Long Term Care
Southeast Long Term Care