Vermont Tech students consistently show that they have the skills to pay the bills. The air is electric at the SkillsUSA National Leadership and Skills Conference (NLSC). In Louisville Kentucky, an exhibition center the size of 16 football fields is meticulously organized into dozens of competition areas. Buzzing through the hallways are thousands of high school and college-level students ready to show the judges what they're made of. This year, seven Vermont Tech students from five majors qualified to compete in the NLSC, and were the only post-secondary students representing the State of Vermont. Tyler Dailey of Waitsfield earned a bronze national medal for his exemplary work in CNC turning.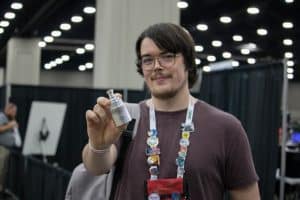 SkillsUSA is a national program made up of both secondary and post-secondary students, teachers, and industry leaders who want to ensure a successful future for America's skilled workforce. The SkillsUSA NLSC is a weeklong event that hosts the best technical education students in the nation. Students first participate in state level conferences. Achieving gold medals in these local competitions guarantees a spot for that competitor at the NLSC. The events themselves have a variety of focus areas; nursing, plumbing, HVAC installation, video game production, robotics, cosmetology, welding, and team construction, to name just a few. Medalists of the SkillsUSA NLSC are typically awarded scholarships, tools, and prizes by corporate sponsors.
The week began with an electrifying opening ceremony, continued with three days of rigorous competition, and a final day of volunteering activities and a closing ceremony. The Vermont Tech students that competed this year were as follows.
Andrew Conway, of Mechanical Engineering Technology, and Blake Nemeth, of Computer Engineering Technology, competed as a team in Mobile Robotics Technology. They designed, coded, and built a customized kit robot to run through a course, move flags, and blaze through obstacles.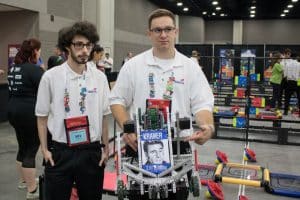 Tyler Dailey, of the Manufacturing Engineering Technology program, competed in CNC Turning and won the bronze medal for the post-secondary competition.
Aric Donerkiel, a Mechanical Engineering Technology student, and Tyler Wright, of Manufacturing Engineering Technology, teamed up to compete in Additive Manufacturing. They were given three days to design and test a 3-D printed part for a specialized manufacturing process.
Austin Turco, a student in the Landscape Design and Sustainable Horticulture program, competed in Job Skills Demonstration, a prepared speech competition. Austin drew on his experience as a sugar maker and showed the judges how to properly sharpen a chainsaw while using OSHA approved personal protective equipment.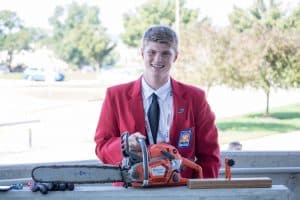 Caleb White, an Electromechanical Engineering Technology student, competed in Technical Drafting. The competitors were given a written test and technical challenge.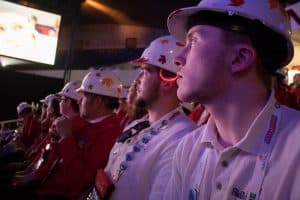 The students were accompanied and mentored by Mechanical Engineering professor, Christopher Gray, and Wes McEntee, an adjunct welding professor and graduate of the Vermont Tech class of 2018. Wes competed in the SkillsUSA in Job Skills Demonstration in his final year of college and was an invaluable mentor for current competitor, Austin Turco. Chris Gray is celebrating his 31st year as a member of SkillsUSA and will be leaving Vermont Tech teach at the River Valley Tech Center.
Vermont Tech has 20 academic programs that align directly with SkillsUSA competitions, and Gray predicts that Vermont Tech's presence at SkillsUSA will only grow.