Once again demonstrating its competiveness against much larger national and international colleges and universities, Vermont Tech is pleased to announce that three students from the Architectural Engineering Technology program, John Kubacz from Fairfield VT, Caleb Bristol from Townshend VT, and Becky Robinson from Burlington VT received three of the four $5,000 engineering technology scholarships that are awarded annually at the international level by the American Society of Heating, Refrigerating and Air Conditioning Engineers (ASHRAE). Along with academic performance, other criteria for these competitive scholarships include leadership ability and work ethic.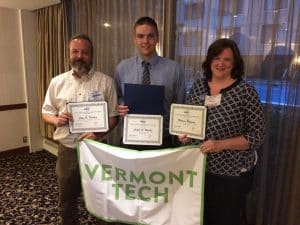 "We could not be more proud of these Vermont Tech students, they embody everything that our program is about both inside and outside the classroom." said Chris Reilly, P.E., department chair of Architectural & Building Engineering Technology at Vermont Tech and faculty adviser to the project. "For three students from one school to be awarded the majority of the international scholarships available is unheard of and speaks to the strength of their work and the Vermont Tech Architectural Engineering Technology (AET) program."
These scholarships continue recent international success of students from the program. In 2014, a student team comprised of Constantin Condrat, Tyler Gendron and Stephen Wichmann (now AET graduates) took 3rd place internationally in the ASHRAE competition for heating, ventilating, and air-conditioning design load calculations for a commercial research and development (R&D) building. This followed up on a 2nd place finish the year before by another Vermont Tech AET design team (Blaine Conner, Greg Cadieux, Matt Molayem) for their design for a high rise apartment building. Courtney Hart and David E. Hamilton, Jr., both 2015 graduates, continued Vermont Tech's strong role in the competition with an ASHRAE regional Best Student Design Competition award for their design for a multi-story community college building.
Also in spring 2015, a separate student team of Alyshia Jones, David Cacciamani and William A. Moore IV (all now graduates), took 1st place in the American Society of Civil Engineers' Structural Engineering Institute's (SEI) national Student Design Competition for their structural design for the same R&D building.
Learn more about Vermont Tech's Architectural Engineering Technology program.