When Samantha Chu graduated from Vermont Tech in 2008, the country was in the middle of a deep recession. Jobs were scarce, even for the highly trained and qualified.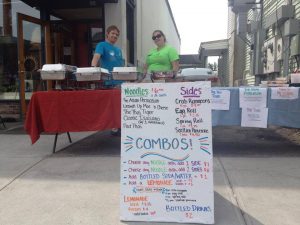 "The year I graduated was hard," she remembers. "I had a hard time finding a career that fit me well." Fortunately, the business management technology grad had a role model who served her well. Her father had moved to the U.S. from Hong Kong and opened a Chinese restaurant when she was just two years old.
"Growing up in the restaurant business is a unique experience," she said. "It gives you a passion for working for yourself." Samantha took that passion and ultimately created a unique, dual concept eatery in Hanover, New Hampshire called Noodle Station/The Swirl and Pearl. The Asian fusion restaurant, paired with a frozen yogurt shop, has been a hit with Dartmouth students and local families alike.
Samantha works closely with her husband, Christopher Gale, who is also a 2008 Vermont Tech graduate. The demands of the restaurant business can have the couple spending 65-70 hours a week together at work. "We love it," she says of their work partnership. "We enjoy spending a lot of time together. It's an easy team effort. Without him, I don't think I would have been able to make it in this business."
More challenging, Samantha says, is finding and keeping good employees. "People come and go really quickly. Sometimes they leave unannounced. It's definitely been challenging." Samantha's classes at Vermont Tech in business management, organizational communication and HR have given her the foundation to deal with heavy turnover. "I think a lot of the skills I learned at school have been helpful with scheduling, procedures and consistency."
A big part of the appeal of the Noodle Station/Swirl and Pearl is the ability to customize an order. The Asian-Italia n fusion restaurant offers a make-your-own noodle bar with 11 house-made sauces, 11 types of pasta, and a variety of vegetables and protein.  The adjoining dessert shop offers 30 flavors o f bubble tea and eight rotating, self-serve flavors of frozen yogurt. Some customers create a favorite dish and never vary from it; others enjoy discovering new taste combinations each time. Either way, Samantha is happy to see her young business grow year over year.
"I love cooking and so I love seeing my customers enjoy my food," she says. "It's really rewarding to see people happy and coming back to try new things. It keeps you going."