Microsoft Outlook is an email client by Microsoft allowing you to login to your VTC email and manage it.  You can read, send, archive, delete, mark as spam, create meetings, manage contacts, and more utilizing the client. It also has built in functionality with other Microsoft Office 2016 products.
Tell Me

At the top of the navigation menu over to the right, you will notice a little light bulb icon with a search box next to it. This is Microsoft Office's Tell Me feature, which allows you to search for features in Microsoft Office by typing in certain key words or phrases. For example if you type in "calendar" it will give you several options for viewing any calendars you have saved or shared to your account.
Quick Access Toolbar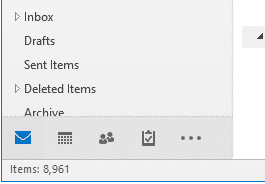 At the bottom left of your Outlook view you will see a menu. These icons allow you to switch between features of Outlook. The first of which is mail, for sending and receiving emails. Second there is the calendar view, for sharing, editing, and viewing your calendars. Third is your contacts, where you can see any saved contacts and edit their info. Lastly is your tasks, where you can set up a task list with different priorities and alerts.
Navigation Menu (Ribbon System)

The picture above shows the Ribbon System, or what is more commonly known as, the Navigation Menu. Each tab will bring up a different set of tools to modify and control Outlook. By pressing the Alt key, Outlook will show you the shortcut combos to quickly navigate the menu and features inside each menu. To use these shortcuts just tap Alt then the key shown, alt does not have to be held down.
The "File" tab allows you to open Outlook Data files, and print your emails, calendars, and task lists.
The "Home" tab will vary depending on which view you have selected. For mail, you will be able to create new mail messages and do things like reply, reply all, and delete a message once you have selected an email. When you are in the calendar view, the home tab will be where you create new appointments and meetings. You can also change how you're viewing your calendar, narrowing it down by day, week, or month. In the task view, you can create new tasks and set their priorities.
The "Send and Receive" tab will have a button allowing you to send and receive data. Basically, this is going to update your outlook. Outlook updates automatically every few minutes, but if you are expecting a certain email or a calendar sync, you can use this button to resync with your email account.
The "Folder" tab lets you create and search for folders in your Outlook data file. These folders can store emails and other data that you drag into them, and help you sort your inbox.
The "View" tab will let you customize the way you see your Outlook. There are many views to choose from, sometimes making it easier to navigate your Outlook. Pick which views help you, or keep it default; it's personal preference.