Setting direction and establishing priorities
Based on the work of the college community, Vermont Tech is proud to have a strategic plan in place for 2018-2023, as well as a formal process to implement the plan. Included in the plan management is an ongoing process to add subsequent years during annual plan updates.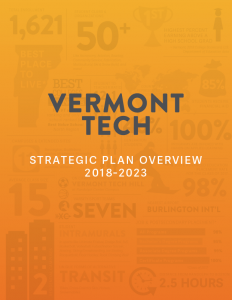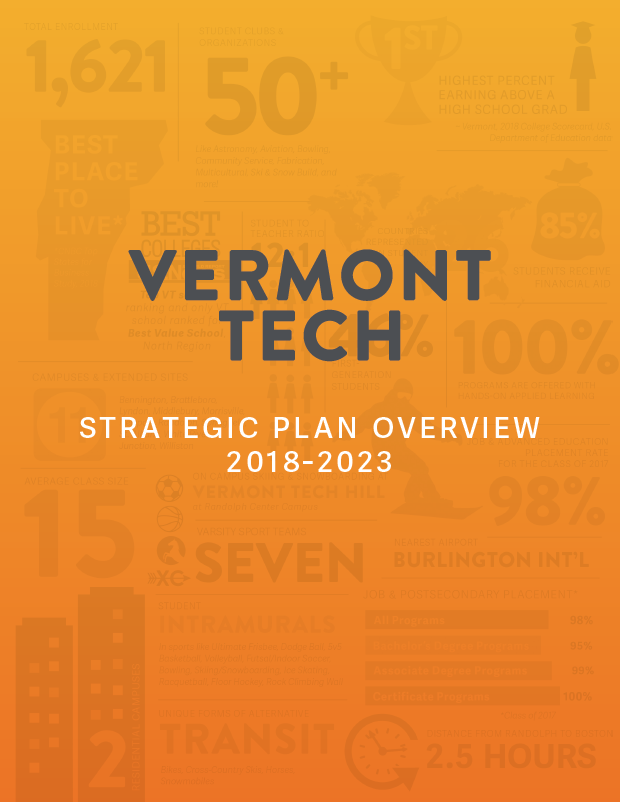 A copy of the strategic plan is available by following the link embedded on the cover image above, which also includes links to many supporting documents. Our thanks to the many people who contributed to the development of this plan, as well as the many that will carry it forward. Together, we make Vermont work!
Executive Steering Committee
Patricia Moulton,
Allan Rodgers
Curtis Ostler
Jean-Marie Clark
Amanda Chaulk
Jessica Van Deren
Rosemary Distel
Maureen Hebert
Littleton Tyler
Jessica Riley
Ana Gaillat
Jason Enser
Andrew Myrick
Catherine McCullough
Lisa Fox
John Kidder
David Rubin
Kelly-Rue Riso
Erica Dana
Russell Mills
Mary Kathryn Juskiewicz
Kellie Campbell