School of Engineering and Computing
Architectural Engineering Technology (BS)
Design and build the world around you. Make your mark on history by seeing your ideas take shape as infrastructure, buildings, and building systems. Vermont Tech offers exciting and challenging classes on how to plan, shape, and maintain the structures in the world around us. The bachelor's program builds on the foundation established in the associate program in structural engineering, HVAC, plumbing, electrical, and integrated sustainable design. Hands-on learning is offered in the lab and the field. Students test systems, observe construction projects and evaluate infrastructure design.
Launch 2021 Morrill (Randolph Center)

Graduates of this program are prepared for a wide range of careers working with architects and engineers, including contractors, project managers, or junior engineers.
Graduates are allowed to sit for the Fundamentals of Engineering exam in many states and, after meeting state requirements for appropriate work experience, may also take the Professional Engineer licensing exam.
The ABET-ETAC program educational objectives and student outcomes are listed on the Curriculum page.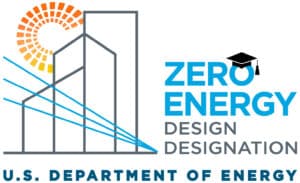 Our Architectural Engineering Technology program has received the US Department of Energy Zero Energy Design Designation.
A student with a Bachelor of Science in Architectural Engineering Technology will be able to:
Apply knowledge, techniques, skills and modern tools of mathematics, science, engineering, and technology to solve broadly defined engineering problems appropriate to the discipline
Design systems, components, or processes meeting specified needs for broadly defined engineering problems appropriate to the discipline
Apply written, oral, and graphical communication in broadly defined technical and non-technical environments and identify and use appropriate technical literature
Conduct standard tests, measurements, and experiments and analyze and interpret results to improve processes
Function effectively as a member and a leader on technical teams
Educational objectives that are demonstrated during their workforce careers include:
Engineering skills: analyze, design, and implement building-related systems and products
Engineering management skills: handle administrative, personnel, and technical project issues through appropriate communication and management techniques
Design skills: demonstrate competence and creativity in the design of systems, components, or processes by researching and developing appropriate solutions to problems and using a variety of tools and techniques in their work
Innovation skills: engage in post-degree learning and adapt to new and changing technologies
The program is accredited by the Engineering Technology Accreditation Commission of ABET, http://www.abet.org.
The student, in consultation with their advisor, may develop a sequence of courses that best meets their pace, experience, and needs while still satisfying all degree requirements, including minimum required credits and required program courses. A typical curriculum is shown here.
Curriculum Details
Employers
Aldridge and Elliot
Belmains
Blodgett Supply Co.
Chris Karvelas Construction
CSA Pro Services
Dartmouth Medical Center
DEC Enterprises, LLC
G4 Design Studios
Harris Rebar
Highwood Homes LLC
Keurig Green Mountain
MRH Engineering P.C.
New England Air Systems
NH Dept. of Transportation
Norian./Siani Engineering
North Woods Engineering
Penney Consulting Services
Salem Engineering
Snyder Homes
State of Vermont
SW Cole
The University of Vermont
VELCO
Vermont Mechanical
Vertek
VPIRG
Whiting-Turner Contracting Co.
WV Engineering Associates
Job Titles
Structural Engineer
Structural Designer
HVAC Engineer
HVAC Designer
Construction Manager
Architect
Firm Partner
HVAC/R Sales Engineer
Architectural Designer
Practicing Engineer
Civil Engineer 1
Engineering Technician
Architectural Estimator
Civil Engineer
Mechanical Designer
Supervisor Assistant
Field Engineer
Field Manager
Project Engineer
Electrical Design Engineer
Junior Engineer
Department Head
Designer
Product Support Technician
I'm a transfer student who received an out-of-state associate degree.
After taking time away from school, I was a little worried about coming back.
The small college experience was very important to me.
Read full profile
I started at Community College of Vermont
The small class sizes are perfect
I'm on the women's soccer team
Read full profile
I am fascinated by solar power and want to learn more
The low student to teacher ratio is great
I am very active with campus clubs and sports
Read full profile
I was looking for a small school with faculty who care.
The job fairs were a big help to me
Employers know Vermont Tech graduates have what it takes
Read full profile
I was among my program's first seven graduates.
After graduation, I was hired immediately where I had my internship!
I always get a positive response from employers when they see Vermont Tech on my resume.
Read full profile
I learn better in small classrooms
I take advantage of the tutoring sessions
I love enjoying the outdoors
Read full profile